When I first decided to move 'Out West', it was because I was in love with the whole idea of the wild west. Now, living here for almost 11 years, I feel like I've gotten to know the desert pretty well. Here are some facts about living in Phoenix that you may find interesting.
1. Every year we get monsoons. God forbid you call it a monsoon "season", the news anchors will be all over you for not being politically correct. The big monsoons typically roll in through the south east or south west. I live in the south east. It begins with a huge wall of dirt, blanketing entire cities, before it is finally washed away by the storms that follow, leaving mud in it's path. Sometimes it gets so bad, that I can actually smell dirt seeping underneath my front door, entering my house. If you HATE dusting your house, DON'T move to the desert.
Don't believe me? Watch it live
here
.
2. Although it is awesome that we don't have certain bugs here, like gnats, we do have several other beasties that you may not want, like scorpions. In my 11 years here, I have never been stung by one, but have come across a few in the house. And, did you know that they GLOW under a black light? They actually sell black lights in pet stores so you can turn off your lights and scour for the little suckers. They are VERY hard to kill also. I think they survived beside the cockroach. Watch out for the little ones, they do the most damage.
3. Yes, there are Native Americans here. No, they don't live in tepees. It's amazing how many people actually think that Native Americans still live in tepees. They live in houses just like everyone else. There are also Indian Reservations and yes...CASINOS! It's no Vegas, but they can be a good place to party with friends, play bingo, or go see a look-alike band, and on occasion, an old 80's heavy metal band still trying to hang on to fame and glory.
4. Even though Phoenix is a desert, Arizona has several different climates. I can drive 2 hours north and be in snow and ski-resorts, or drive 4 hours south and be at the beach in Mexico. 6 hours to Vegas, 5 hours to Los Angeles...
5. It's HOT! Temps in summer actually maintain around 110º F. The record is 122º on June 26, 1990. But we pride ourselves on the fact that it's a dry heat. There is absolutely no humidity, so it's bearable. Public places even have misting systems put in place to keep you cool if you're walking or eating outside. A lot of people with arthritis love it here because of the dryness.
6. There are no cowboy and Indian shootouts taking place on the streets. Although there can be gang activity on the west side.
7. We have to plant grass here. Yes, you read right. Grass is not native to the desert. Every season we have to plant winter grass if we want to have some sort of landscape that isn't tons of crushed rock. The summer grass grows back every year, but winter grass dies and looks like hay. It's two totally different types of grass. Don't ask me how it works. Hey at least I'm not raking 52 bags of leaves like I used to do my parents do in Virginia. I DON'T miss that!
8. I used to think that Arizona looked like Wile E. Coyote cartoons. And though we do have coyotes here, the only place that really resembles the cartoons is the Grand Canyon and Sedona.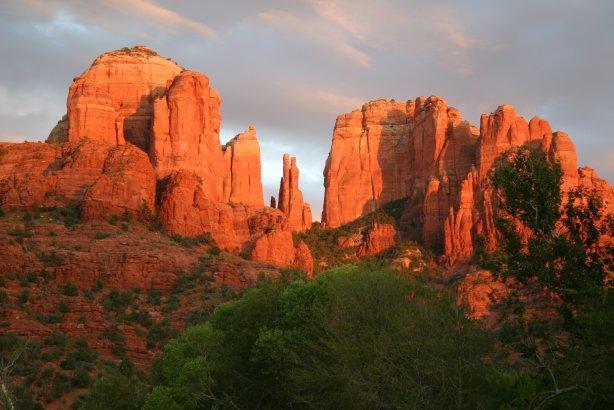 9. Yes we DO also have roadrunners. They're NOT purple and blue. They don't fly, and sometimes they even eat rattlesnakes (which we also have).
10. Although we have dust storms, scorpions, rattlesnakes, and yes even tarantulas (which I've never seen), living in the desert is also a plus. If you HATE the cold, Phoenix is a great place to live because it stays warm pretty much 9 months out of the year. The cost of living is almost HALF of what it is on the east and west coasts, and everyone is so much more relaxed here. Most work places are casual...no stockings, shorts, sandals and even flip flops are typical work attire. Everyone has some kind of recreational vehicle. Either quads (4-wheelers), dirt bikes, and boats (yes there are several man made lakes, and Lake Havasu is just a drive away).
Tell me a little about where you live!